ALL OF OUR BOOKSTORES HAVE CAPACITY LIMITS. YOU CAN CALL YOUR CAMPUS AND REQUEST TO PICK UP BOOKS ON SITE BUT THEY MAY NOT BE FULLY STOCKED BECAUSE OF COVID19. IF THEY CANNOT ACCOMMODATE YOU, THEN YOU WILL NEED TO FOLLOW THE DIRECTIONS BELOW.
OPTION 1: Purchase your books online and have them shipped directly to you.
If you select this option you will need to select the 'Books' tab on our website and fill out the corresponding drop-down menus with the information listed on your schedule. If you cannot get your books to populate, try using ONLINE as the location. Please provide a valid shipping address while checking out. Unfortunately, we cannot ship to PO BOXES, so please list a physical address. Payment can be made by charging to your student account or using a credit card. You will be responsible for shipping fees. 
OPTION 2: Shop online – Have it sent to the Campus you prefer – Pick up in store.
You will still need to place your order on www.crowderbookstore.com and then select Curbside Pickup. PLEASE PUT THE LOCATION you prefer in the NOTES section at checkout. (This is located below the section entitled "ship to a different address") THERE IS A $3 PROCESSING FEE  We will process this order in NEOSHO and ship it to the campus you selected. You will need to bring your current Crowder ID or drivers license to pick up your package.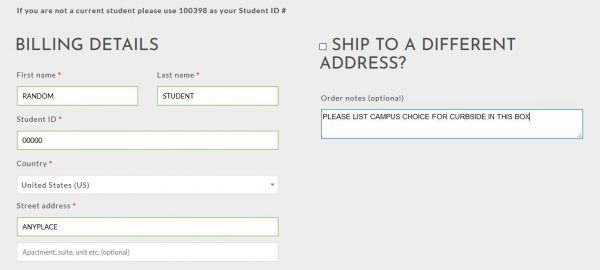 The following are SUMMER hours:
NEOSHO: Monday- Thursday 8:00AM- 4:30PM  and Friday 8:00AM-12:00PM (Phone:417-455-5588)
WEBB CITY: Monday- Thursday 8:00AM-4:30PM (Phone: 417-673-2345) HOURS VARY. PLEASE CALL AHEAD.
CASSVILLE: Monday-Thursday 10:00AM-2:00PM (Phone: 417-847-1706)
MCDONALD COUNTY: Monday-Thursday 7:30AM-5:00PM (Phone:417-226-6000)
NEVADA: Wednesday & Thursday 10:00AM-2:00PM (Phone:417-667-0518)
If you have any questions please email BOOKSTORE@CROWDER.EDU
---
Back to Home