HOW TO ORDER BOOKS INSTRUCTIONAL
HOW TO ORDER BOOKS INSTRUCTIONAL PDF
STEP 1: REGISTER
To order books with us you will need to create an account. You can do this by selecting the LOG IN button at the top of the main page and registering an email with us. We prefer you to use your Crowder email but this is not required. Please create an account before locating your books.

STEP 2: FIND YOUR BOOKS
Select the BOOKS tab and fill out the drop-down menus with the information from your schedule.
If you are in a Dual Credit class or in high school choose ALL DUAL CREDIT LOCATIONS for your School box. Then the dept would be: for example ENGL DCO (if you are in the online class) or possible ENGL DCPC (if you are in the Pierce City class)
If you are in a class at the JOPLIN ATTC location chose JOPLIC ATTC as your School box.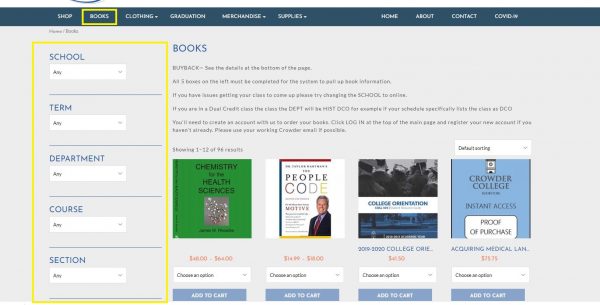 All boxes must be filled out for the books to populate.
Below is an example of your schedule.
DEPARTMENT, COURSE, SECTION, SCHOOL.
Your TERM depends on what semester you are in. Spring is 012021, Summer is 062021, Fall 082021. (This is an example only.)
FALL BOOKS MAY BE PURCHASED AFTER JULY 1ST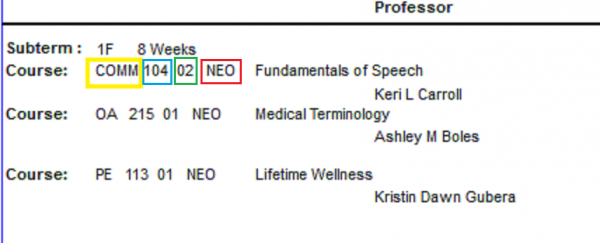 After your books populate, you can add them to your cart. You will have the option to select New or Used. When you have finished adding books to your cart you can then proceed to checkout. You can choose to have it delivered to the campus of your choice by selecting curbside or pay to have it shipped directly to you. If you select Curbside then you will need to enter the location you prefer in the ORDER NOTES under "ship to a different address." You also have the option to charge to your student account or pay with a credit card.
How does shipping and curbside work?
Please email BOOKSTORE@CROWDER.EDU with any questions or concerns.
---
Back to Blog