HOW TO ORDER BOOKS INSTRUCTIONAL
HOW TO ORDER BOOKS INSTRUCTIONAL PDF
STEP 1: REGISTER
To order books with us you will need to create an account. You can do this by selecting the LOG IN button at the top of the main page and registering an email with us. We prefer you to use your Crowder email but this is not required. Please create an account before locating your books. If you have already created an account previously please log in using the email you had previously registered.

STEP 2: FIND YOUR BOOKS
Select the BOOKS tab and fill out the drop-down menus with the information from your schedule.
TERM, DEPARTMENT AND COURSE are the required fields to fill out. This information can be found on your schedule.  If your selection needs to be refined because multiple books populated, please use the optional boxes that include school location and section number. This will narrow down the required course materials for your specific class. Please see below for info on how to read your schedule. After adding books to your cart, you will need to select the Books tab again to clear the drop-down boxes and search for new course materials.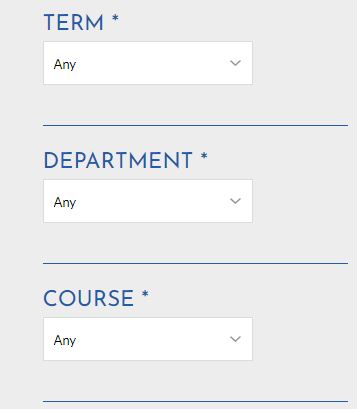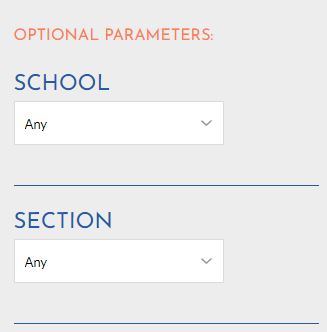 Below is an example of your schedule.
DEPARTMENT, COURSE, SECTION, SCHOOL.
Your TERM depends on what semester you are in. Spring is 012021, Summer is 062021, Fall 082021. (This is an example only.)
FALL BOOKS MAY BE PURCHASED AFTER JULY 1ST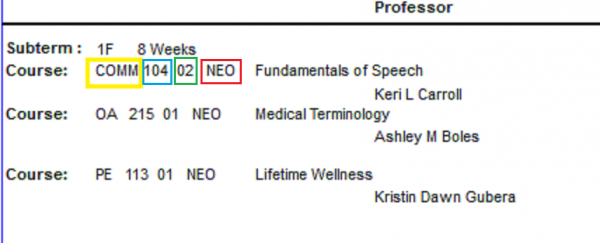 After your books populate, you can add them to your cart. You will have the option to select New or Used. When you have finished adding books to your cart you can then proceed to checkout. You can choose to have it delivered to the campus of your choice by selecting campus delivery or pay to have it shipped directly to you. If you select Campus Delivery there is a $3 fee. You will also have the option to charge to your student account or pay with a credit card.
How does shipping and curbside work?
Please email BOOKSTORE@CROWDER.EDU with any questions or concerns.
Shipping & Campus Delivery
Where do I get my course materials?
You can come to any of our locations and pick up books on site. Bring a copy of your schedule and your Crowder ID or valid photo ID and we will get you fixed up! However, as you all know, because of the conditions we are facing with COVID-19, be mindful that you will need to wear a mask and all of our stores have capacity limitations. Please plan accordingly.
Now, let's talk about what to do if your brick and mortar store does not have what you need.
Your first option is to Purchase your books online and have them shipped directly to you. 
If you decide to go this route, select the 'Books' tab on our website and fill out the corresponding drop-down menus with the information listed on your schedule. If you are having trouble accessing your course materials please click the link below and visit our instructional page.
 How Do I Find My Course Materials?
Please provide a valid shipping address while checking out. Unfortunately, we cannot ship to PO BOXES, so please list a physical address. Payment can be made by charging to your student account or using a credit card. You will be responsible for shipping fees. 
Your second option is to Place your order online – Have it sent to the Campus you prefer – Pick up in store.
You will still need to place your order on www.crowderbookstore.com and then select PREORDER CAMPUS PICKUP. THERE IS A $3 PROCESSING FEE FOR SHIPPING TO ANY CAMPUS FACILITY.  This is NOT same day delivery or pick up. We process orders in the order they are received, we will notify you when it is available. We will process this order in NEOSHO and ship it to the campus you selected. Once the campus receives your prepackaged order they will notify you of its arrival. You will need to pick it up at that location. All locations are open and accepting WALK-INS. You will need to bring your current Crowder ID or drivers license to pick up your package. Masks are required to enter Crowder Facilities.
Don't worry, if you have questions feel free to email us at bookstore@crowder.edu or call us @ 417-455-5588 We're here to help!
Crowder College Bookstore Loyalty Program
Introducing our new LOYALTY REWARDS program!
Easy to join and free to sign up!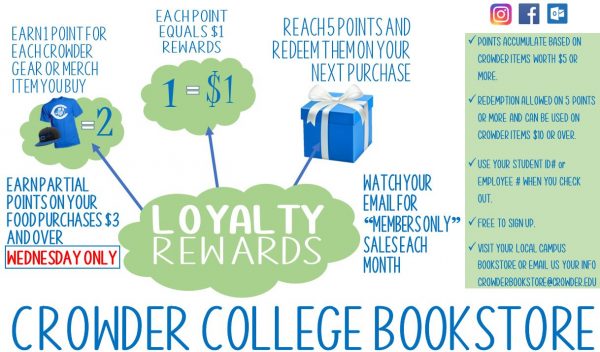 Points accumulate based on Crowder items and merchandise valued at $5 or more.
Redemption allowed on 5 points or more and can be used on Crowder items and merchandise valued at $10 and over.
Wednesdays you can earn partial points on food purchases when you buy items valued at $3 or more.
Watch for "Member's Only" sales occurring monthly!
Get started by filling out our form SIGN UP
Thanks for shopping with us! We love our customers and appreciate your business!
Binders + notebooks + pens + pencils + erasers + scissors + post it notes + page markers + sheet protectors + highlighters + protractors + colored pencils + study aids + folders + staplers + rulers + scan-trons + and more!
DID YOU KNOW?? SUPPLIES CAN BE CHARGED TO YOUR STUDENT ACCOUNT!
GET YOUR TEXTBOOKS, SUPPLIES AND CROWDER GEAR ALL IN ONE PLACE!
YOU CAN ALSO CHARGE $50 WORTH OF CROWDER GEAR PER SEMESTER TO YOUR STUDENT ACCOUNT.
**HOODIES, TEES, CREWS, PANTS, HATS, MUGS & GO CUPS + NEW ITEMS ARRIVING WEEKLY!
PURCHASE A CROWDER GO CUP AND YOUR FIRST FILL IS FREE. GET REFILL PRICE WHENEVER YOU USE IT ALL SEMESTER!